Can I compare the resultsets of two queries?
Yes. Starting with version 1.1.0 you can compare the data of two sql queries.
Can I compare data between different DBMSs running on different platfroms/computers?
Yes. As long as you can connect to the databases you want to use via ODBC 3.5 compliant drivers.
Where can I get ODBC 3.5 Drivers?
See Drivers
What features will be disabled after the evaluation period expires if I do not buy a license for the application?
After the 30-day evaluation period expires, some features of CompareData will be disabled (except for Firebird data sources). You can enable those features by buying a license for the application. A license is not required for comparing table/view data. A new evaluation period is started with each new release of the application.
Feature
No License
Evaluation Period/​Registered/​Firebird
Compare
Table/View data
Query data
Metadata
Synchronize
Table/View data
Save as SQL statements
Save Updates as SQL
Generate Data Sync Script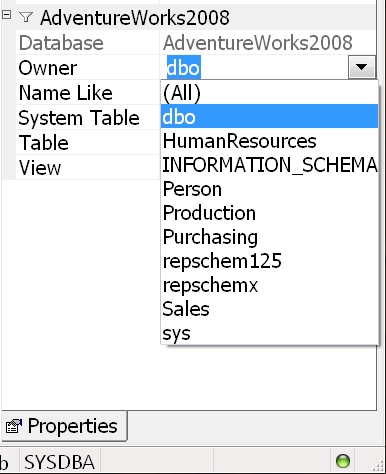 I have added a new tables comparison but no table for my schema is shown in the results for the comparison
A new tables comparison uses your login ID as the default schema filter value for the comparison. To change a tables comparison schema filter, use the properties schema filter dropdown to select a specific schema or all schemas for the tables comparison. Depending on the DBMS, a tables comparison schema filter may be labeled as 'Schema' or 'Owner', etc.